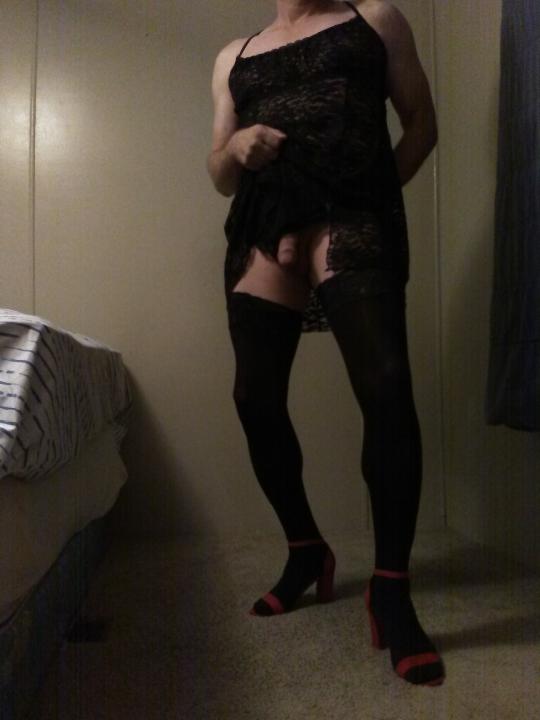 So yeah hi everyone. I am totally new to crossdressing and I love it!!! I can't explain why but I love the feel of wearing heels, pantyhose, panties and women's clothes. I've always had a fetish for crossdressers and have got off looking at pictures and videos for as long as I can remember. My wife and I have been separated for months, she moved out and a few months ago and recently I got up the courage to go out and buy some heels and stockings. I got home and dressed up and had the biggest cum I've ever had! I then went out and bought some more stockings (kinda funny because the cashier asked me if I was going fishing and I was like umm yep as she rang up my nail polish and lipstick lol). Sooooo I got home and opened the door and my to be ex-wife was there (she still has a key) my heels and stockings were spread around the living room and I'm standing there with a bag of makeup and stockings! Omg I was dizzy and about fainted! She asked me how long I have been crossdressing and I told her that was the first day (omg I was soooo embarrassed!). I thought I was about to get cussed out and humiliated. Her next repsonse was that she had a bra and panties I might like to have. A wave of relief came over me. I couldn't believe it, she totally accepted it. Over the last week she has given me makeup, nail polish, panties, stockings and bras. She has even gone as far as to buy me lingerie. Since then she comes by sometimes and I am wearing just heels and stockings and she doesn't give me any shit about it.
Thank you so much for the comments on my pictures! I want to thank certain members of this community:
- Aspiring Sissy Viktor - Thank you for talking to me, your comments on my pictures and for making me feel welcome, I would love to meet up with you in person and make both of our fantasies a reality sweetie! It would be so fucking hot if you sucked my toes and came on my feet!
- SirHeart - Thank you so much for your comments on my pictures honey! If I'm ever in your area I want to go to the beach with you at night and have you fuck my man pussy in the tide and when you are ready to cum pull out and cum in my mouth and all over my face baby!
Thank you to everyone else who likes and comments on my pics xoxoxo
I can't show my face in my pics yet because I am a work in progress. I have to shave my beard, learn how to apply makeup properly and get some wigs. I'm gonna get more lingerie, hooker heels, boots and more! You all have only seen the beginning of Cheryl at this point.
Sooo I have some questions:
- I have never had anal sex - I can only put a finger in my man pussy before it hurts and I want more. How can I get more in my pussy without it hurting?
- I have never sucked a cock and need to learn how - any tips?
Thanks to the community and I love you all!!!